Waste from paper mills contains a lot of iron wires. Most of the iron wires are entangled with plastics, which makes it difficult to separate and recycle directly. Therefore, the plastics and iron wires must be broken before recycling, and then separated and recycled. Through the waste shredding and sorting system of the paper mill, the metal, plastic and pulp can be separated from the materials. The metal smelting can be reused, the plastic can be used for re-granulation, and the pulp is used as the raw material of recycled paper; it realizes resource regeneration and creates value while protecting the environment.
According to customer needs, GEP ECOTECH has successfully developed and produced a complete paper mill waste recycling system, which can separate the metal, plastic, pulp and other materials in the twisted rope and slag, and achieve more than 96%-99% recycling.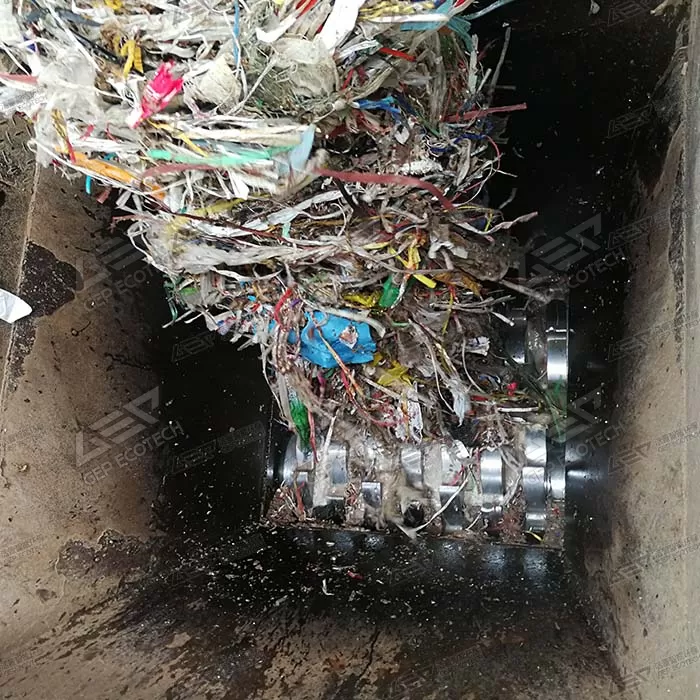 How does the paper mill waste shredding and sorting system work?
First, through the GEP ECOTECH double-shaft shearing shredder, the fine crusher, the papermaking waste residue is crushed in the second stage, and the crushed materials will be magnetically separated and iron removed by a magnetic separator. The material after iron removal is thoroughly cleaned of impurities such as mud, sand, stones and other impurities through the separation sedimentation tank. Then the trommel screen separates the pulp and the plastic, and the hydraulic baler packs the plastic.
If you have any requirements for this equipment, please feel free to contact us. We will answer all your questions about the waste shredding production line in the paper mill, and recommend the equipment type and model, and make detailed equipment or production line solutions for you!