Recently, many customers have asked how to recycle the cardboard after it is shredded? We all know that most waste cardboard and cartons can be collected and sorted in material recycling facilities, and then compressed into bundles using a baler. The cardboard/carton bundles are then transported to the paper mill, where they are processed into new cardboard and carton products. In addition to packaging, shredding is another way to recycle waste cardboard and cartons. Let us briefly understand How to recycle the shredded paper & cardboard recycling.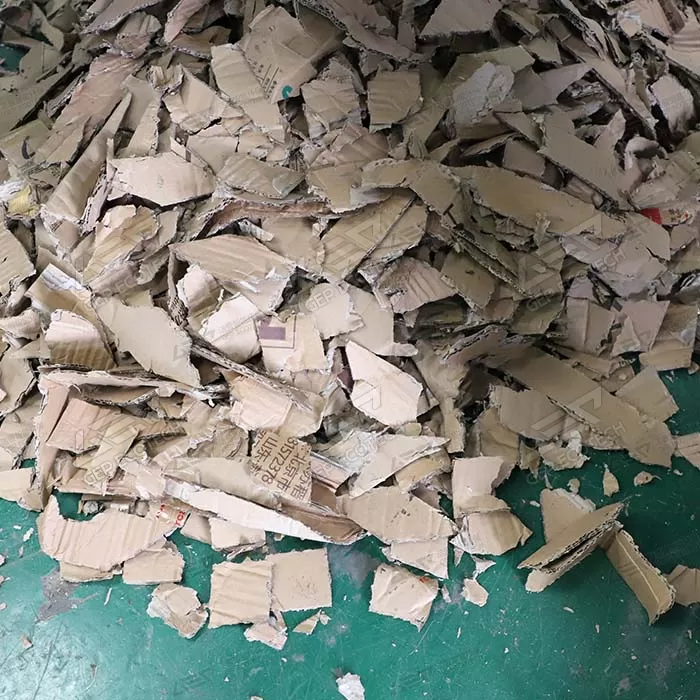 Shredded paper & cardboard recycling
Certain types of shredders can convert used cardboard and cartons into large-volume soft packaging materials, which are very suitable for protecting and transporting various types of items, thereby eliminating the handling costs of cartons and cardboard. Cardboard is naturally biodegradable. After shredding, they can be composted in a commercial composting operation or used as a mulch for gardens and landscapes. In this way, it opened to realize the recycling and reuse of shredded cardboard.
What are the benefits of recycling the shredded paper & cardboard?
The cardboard is shredded and recycled. One ton of waste paper can produce 850 kilograms of good-quality recycled paper, saving 3 cubic meters of wood, 100 cubic meters of water, 300 kilograms of chemical raw materials, 1.2 tons of coal, and 600 kWh of electricity. According to the production of 20,000 tons of office recycled paper, 66,000 cubic meters of wood can be saved a year, which is equivalent to protecting 520,000 big trees or adding 5,200 acres of forest. Waste paper resources are very rich. Calculated on the basis of 1/3 of the waste, more than 10 million tons of waste paper can be recycled each year. This is what it means to recycle the cardboard after it is shredded.
GEP ECOTECH industrial cardboard or carton shredder can meet various output requirements and various discharge requirements. Equipped with an intelligent monitoring system and an intelligent dust reduction system, the equipment production line is both profitable and environmentally friendly, and has been successfully put into use in many areas. If you are also interested in paper & cardboard shredding, recycling, please contact us for more equipment information!