The waste refrigerators, waste washing machine, computer mainframe case, small household appliances and other electronic waste, because of the large amount of recyclable material, such as metal, plastic and other materials, has become very popular renewable resourcesin the market.But the efficient disposal of these materials requires dedicated electronic garbage crushing equipment. Today, I will introduce you a machine which is very suitable for electronic waste recycling.
GEP GF series four-shaft shredder is equipped with four sets of shearing cutter rollers. Four sets of cutter rollers adopt different cutter structures to cooperate with each other. After the material enters the shredding chamber, the material is torn into small pieces by the cutters tearing and shearing action on the four sets of cutter rollers. The discharging size is controlled by screen mesh. After shredding, the material smaller than the screen mesh will fall out, the bigger material will keep larger keep shredding in the shredding chamber until it can pass the screen mesh.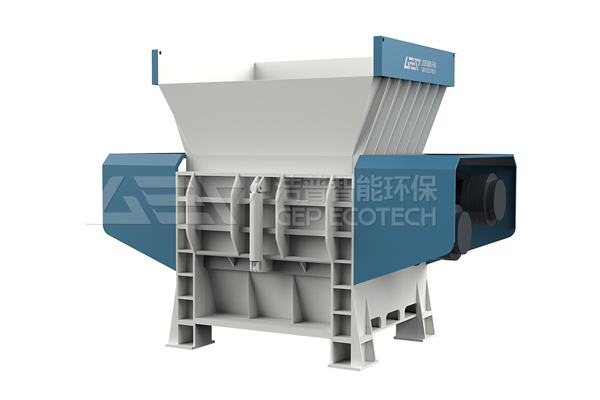 The advantagesof four shaft shredder:
1.GI patented intelligent technology, remote monitoring and diagnosis
GI intelligent technologycan effectively reduce equipment failure rate and maintenance time, reduce maintenance and operation costs, and greatly improve the operation efficiency of the production line.
2.Four cutter shafts flexible coordination, strong shredding ability
The shredder adopts unique and effective four cutter rotors structure and cutter tooth shape. The lower two rotors are the main crusher, and the upper two rotors are the auxiliary crusher and scratch material, which reduces the time of invalid scratch, inversion and idling. Screen with humanized design, can be easily and quickly replaced.
3.Unique cutter design for easy maintenance and replacement
Cutters are made of imported alloy steel, which has long service life and good interchangeability, and is convenient for maintenance and replacement.
4.The spindle has high strength, strong wear resistance and impact resistance.
The main shaft is made of high strength alloy steel. After many times of heat treatment and high precision processing, it has good mechanical strength, strong wear resistance and impact resistance, and long service life.
5.Imported bearing, multi-combined seals
Imported bearings and multiple combined seals are adopted, which have high load resistance, long service life, dust-proof, waterproof and pollution-proof, and ensure the continuous and stable operation of the machine.
GEP four shaft shredder is very suitable for the electronic waste recycling, if you want to know about the four shaft shredder, please feel free to contact with us.