The shredder of the GEP project in Saudi Arab is a specially developed and designed double-shaft shredder for the destruction of replaced wearable parts fighter plane to prevent technical disclose. The equipment adopts the design of double motors with double planetary reducers, which has the characteristics of large shear force, good tearing effect, low noise and good stability. All the key parts of the equipment are of international famous brands, and the production process and process fully meet the CE certification standards, and have been effectively upgraded intelligently.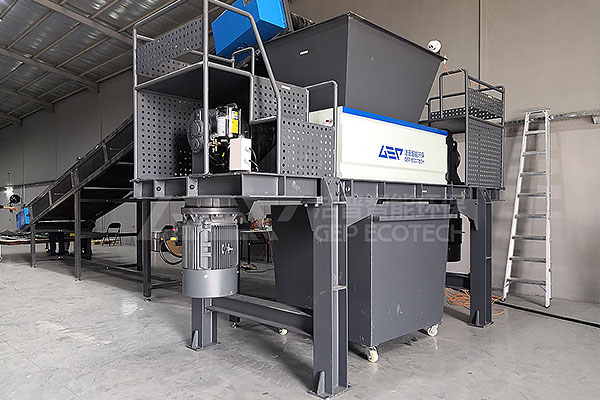 The customer is the oversea equipment maintenance contractor of US Defense Department in Saudi Arab. Before purchasing, the customer had contacted with many international first-class brand suppliers, inspected product performance, after-sales service and enterprise qualification, and finally chose GEP ECOTECH as the partner after comparison. According to the customer feedback, the GEP team has provided perfect product and spare parts solutions for the adaptability of the products and the problems that may occur in the use process, which has been highly recognized and favored by customer, which also makes customers more confident in cooperating with GEP.
With the high attention and continuous improvement of the quality of solid waste disposal equipment for many years, the design and production concept of high efficiency, high quality and environmental protection of GEP products are recognized and praised by customers. GEP's manufacturing concept of precision and refinement, the production process is all based on the construction machinery technology manufacturing. Products from design to manufacturing, small to each component, large to the performance of the whole machine strictly controlled, the structure of the whole machine is more reasonable, and the performance has reached the international engineering machinery level.