Aluminum scrap recycling has a great added value and potential market
As a type of non-ferrous metal, aluminum products have a high price in the recycling market. Therefore, engaging in aluminum recycling is a long-term and considerable investment. The aluminum shredder we produce can help you get a head start in the aluminum recycling market, not only to help you recover your costs in the short term but also to give you a constant stream of income later.
Here are some common aluminum raw materials used for aluminum recycling:
Broken bridge aluminum, automobile wheels, aluminum briquettes, can bales, etc.
Gep aluminium series shredder machine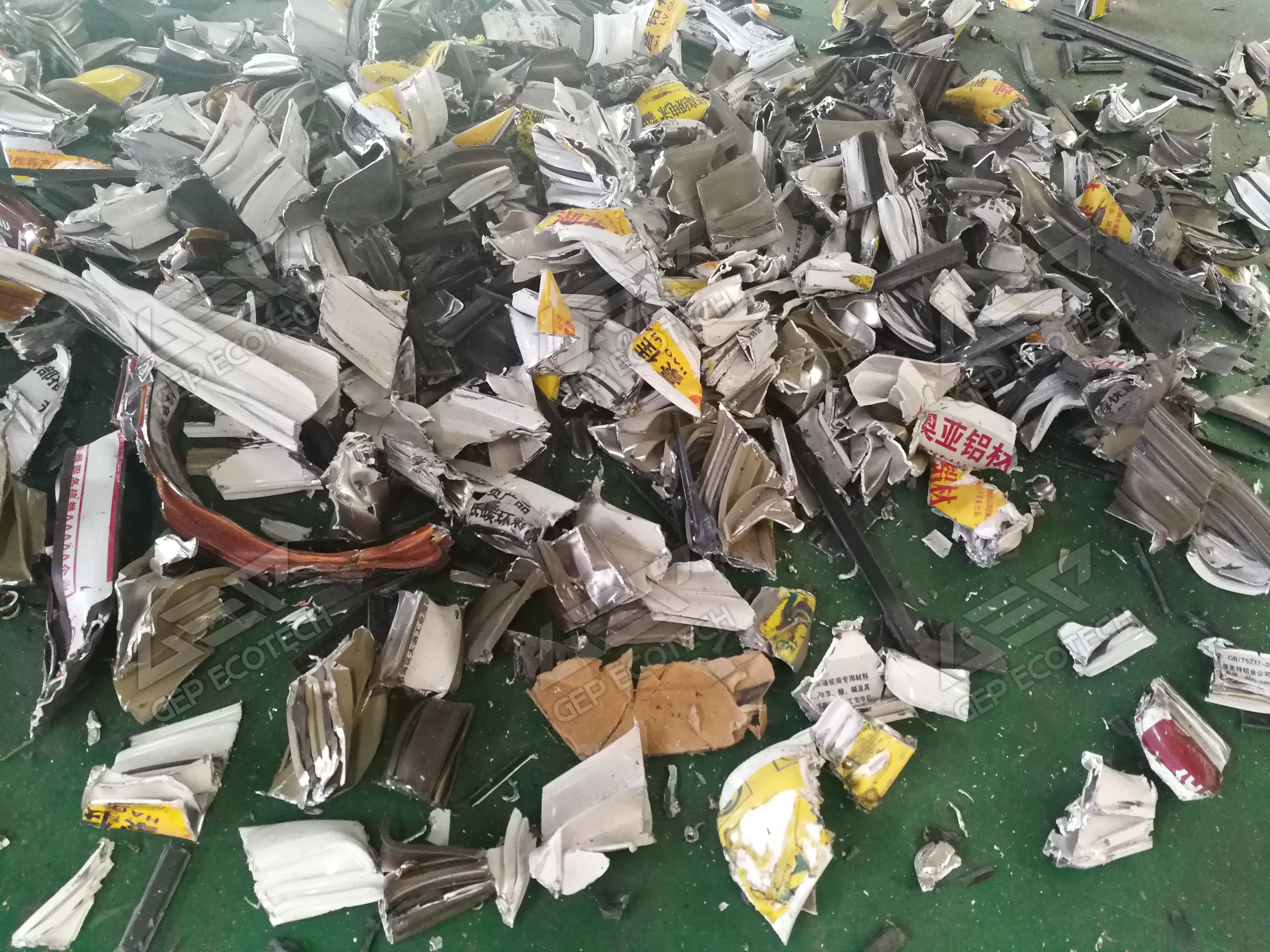 Why choose Gep ecotech aluninium shredder?
1.Hard-core equipment quality&Strong processing strength

Forged with high wear-resistant materials imported from Europe, all knives are hot processed by advanced heat treatment technology and then machined by high precision machine tools for long service life. All fixed tools can be disassembled and installed independently, and can be disassembled and replaced quickly in a short time. JEP can customize the suitable tools according to the customer's needs, effectively ensuring the benign performance of the tools.

2.Gep Ecotech intelligent system(GI system)

Gep Environmental Protection solid waste shredding equipment (shredder) adopts patented intelligent technology automation control, which realizes intelligent detection, intelligent protection, intelligent maintenance and automatic weighing, and can make advance prediction and automatic alarm for equipment failure. The intelligent system can implement centralized control of the shredding process and adjust the operating parameters of the shredder according to the actual production needs, which effectively reduces the failure rate, effectively improves production continuity and reduces maintenance costs.
3.One-stop service
Gep has been adhering to the "customer first" service concept, from equipment selection, material trial to technical training, parts supply, to create a comprehensive, interactive, one-stop service experience for customers.
Aluminium industrial shredder machine price?
We need to understand the details of your materials, such as the main components and size of your waste aluminium materials, production requirements etc., with these basic information GEP environmental protection will give quotes and solutions as soon as possible. Compared with other manufacturers, GEP Environmental Protection has introduced an intelligent system that caters to the market, including automatic lubrication, intelligent detection, abnormal alarm prompting, and reversal of unbreakable materials.
Why each manufacturer gives a different level of offer?
This is because the manufacturers, regions, configurations, models are not the same, the cost of the production of waste aluminium shredder equipment is also different, so if you are choosing the right aluminium shredder, you must shine a bright eye, rational analysis of the market, fully understand the manufacturers, fit their real needs, only then you can choose the right waste aluminium shredder.

If you have a need for this equipment, welcome to call our customer service hotline: 008615838209683.There will be personnel to answer all your questions about the waste aluminium shredder and recommend the type and model of equipment for you to make a detailed equipment or production line solutions.