Tire wire separator is a common used machine during waste tire recycling, it can deal the tire strips into 15mm size, in this size, the tire wire can be separated, the rubber particles can be used as other material or go into the further process.
GEP series tire wire separator is a kind of equipment developed independently by GEP in view of the rising trend of waste tire recycling and practical experience.We have provided the tire wire separator to many customers in the past years, it has received many good comments from the customers, today I will introduce you the advantages of tire wire separator.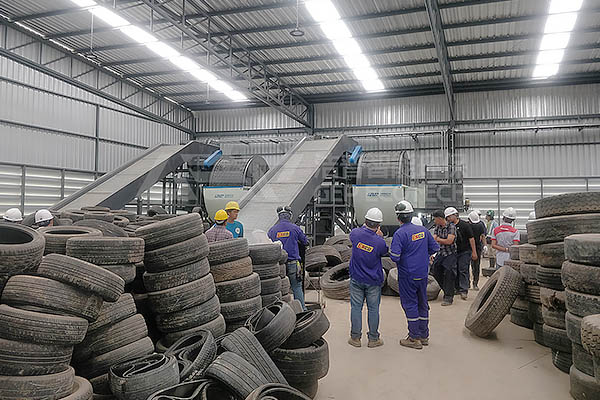 1.GI patented intelligent technology, remote monitoring and diagnosis
2. Running stably and reliably,The reducer is used to drive the cutter roller, which runs smoothly and has small vibration.
3.Special shredding chamber design,The shredding chamber is processed by high precision CNC machining center, which ensures that the equipment can run smoothly for a long time with high load, and prolongs the service life of transmission components.
4. The whole machine has strong wear resistance,Wear-resistant steel plate is used in easily worn parts, which greatly improves the overall wear resistance and effectively reduces the maintenance cycle and cost of equipment.
5. Main shaft is with strong impact resistance,The main shaft is made of high strength alloy steel, which is tempered and heat refined integrally to ensure long-term and high load operation of the equipment.
6. Easy tool replacement,Cutter can be disassembled and installed independently, and can be quickly disassembled in a short time, which improves the continuity of production. Fixed cutter can be repaired and used repeatedly with good interchangeability and long service life.
7.Blade clearance adjustable,Blade clearance can be adjusted according to the type and thickness of materials, so as to achieve the best shredding effect.
8.Humanized appearance design