We have a double shaft shredder capacity 20 ton project in Malaysia. This shredder is mainly designed for mixed industrial waste such as plastics, metals and wooden pallets. This project uses a high-torque GD twin-shaft shredder. The size of the material after crushing can reach less than 200mm (according to application requirements), and the compliance rate is higher than 90%. Let us take a closer look at this Malaysia double shaft shredder capacity 20 ton for industrial waste.
Why do we need a double-shaft shredder for mixed industrial waste treatment?
The double-shaft shredder is generally also called the double-shaft shear shredder, which mainly shreds materials through shearing, squeezing and tearing. It is mainly used for the early shredding of industrial waste to achieve volume reduction and crushing. As we all know, industrial waste materials are very mixed, including metals, plastics, tires, fabrics, wood, etc., so we often need a shredder equipment with wide applicability, anti-entanglement, large output, and high efficiency. These are precisely double-shaft shredders. Because of the product characteristics of the machine, almost all of the crushing equipment used in the mixed industrial waste treatment projects are dual-shaft shredders.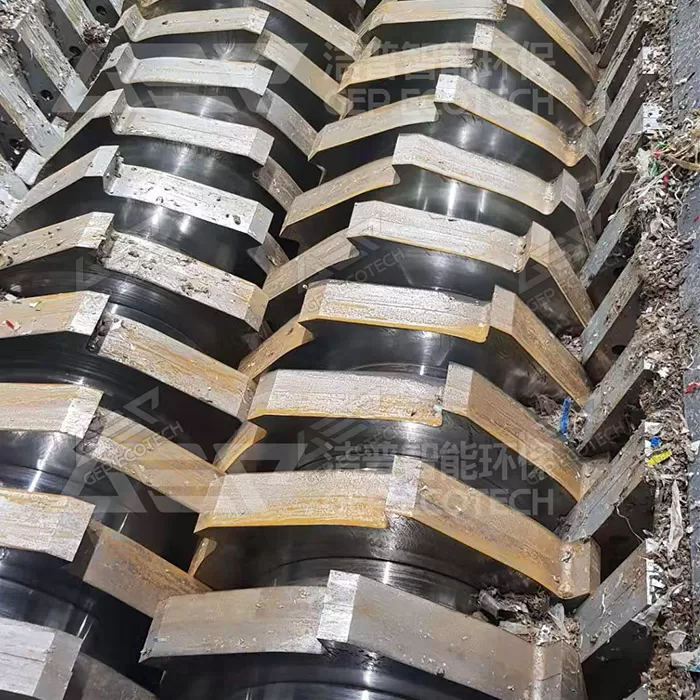 What are the advantages of Malaysia double shaft shredder capacity 20 ton for industrial waste?
The main shaft has undergone many heat treatments and high-precision processing, with good mechanical strength and strong impact resistance
European high-quality knives, suitable for cutting and crushing various soft and hard materials
Using planetary reducer, high transmission efficiency, large output torque and long service life
GEP intelligent technology, automatic lubrication, intelligent detection, abnormal alarm, design of intelligent protection system for unbreakable objects
The fixed knife adopts anti-entanglement design to prevent soft materials in industrial waste from wrapping around the knife body and improve the continuity of production
In addition to the 20 tons per hour industrial waste double-shaft shredder project in Malaysia, GEP ECOTECH also has many industrial waste disposal projects at home and abroad. If you also need industrial waste disposal, please call us and we will provide more equipment information!