Yesterday, a customer inquired about the double-shaft industrial shredder equipment with a daily processing capacity of 10 tons domestic waste. When we further understood the customer's needs, we provided the customer with a detailed disposal plan and equipment quotation on the same day, and the customer was very satisfied. Why can we give professional support so quickly? I have to mention our rich experience in double-shaft industrial shredder equipment manufacturing and project installation, and continue to upgrade on this basis. Not much else to say, let's take a look at a project in Malaysia to understand our continuous upgraded dual shaft industrial shredder machine!
Malaysia Domestic Waste Disposal Project Introduction
For the domestic waste disposal project in Malaysia, the double-shaft industrial shredder machine is designed to process 10 tons per day, and the output after crushing is less than 500mm. The main application is the volume reduction, harmless and resource-based disposal of domestic waste in the back-end disposal of garbage classification.
How does the 10 tonnes per day double shaft industrial shredder machine Malaysia work?
Waste furniture, mattresses, sofas and other household wastes are slowly rising under the drive of the conveyor belt. Within a minute of entering the machine, the sturdy and sharp blades will quietly smash these household wastes into a small pile of iron pieces, textiles, sponge fragments, etc.
The crushed iron pieces and sponge textile pieces are intelligently divided into two discharge ports, one is the magnetic separation port, which collects the crushed metal objects, and the other outlet collects all the crushed materials except the metal pieces. The whole process is very intelligent , which can be done with only two or three people.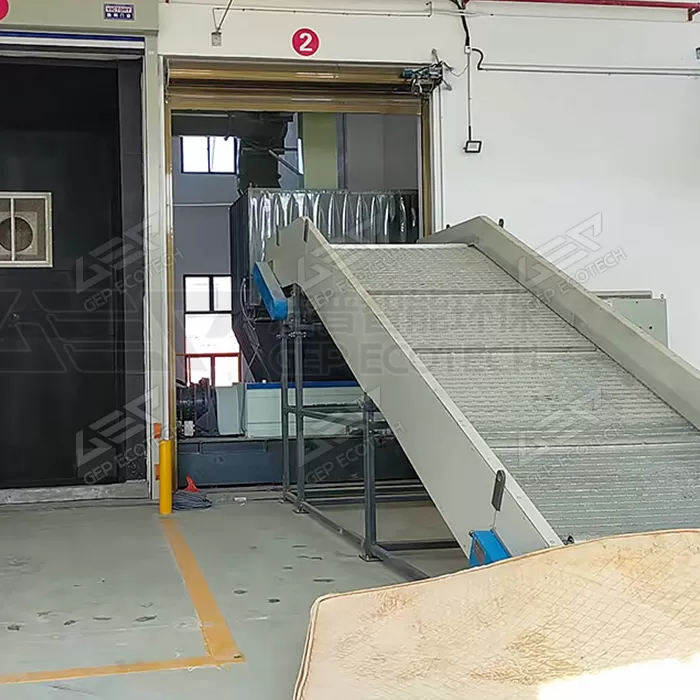 Our dual-shaft industrial shredder equipment has been widely used at home and abroad, whether it is the disposal of domestic waste or other, they have won unanimous praise from customers. In addition to the double shaft industrial shredder machine with a daily processing capacity of 10t, we can also provide various types of equipment. No matter what kind of industrial shredder machine you need, GEP can provide you with the solution design, equipment and after-sales service that you can rest assured. Want to know more, come and contact us!