Plastic bags such as clothing bags, food bags, and daily necessities packaging bags are mostly made of polyethylene (PE) or polypropylene (PP). After sorting, washing, crushing, and granulating, waste plastic bags can be re-used by the terminal plastic product company. Reuse to achieve the purpose of saving resources and reducing costs. Crushing is an important part of the recycling of waste plastic bags. The choice of equipment is related to whether the entire production line can run efficiently. So what equipment is used for plastic bag crushing? This article will take you a brief look.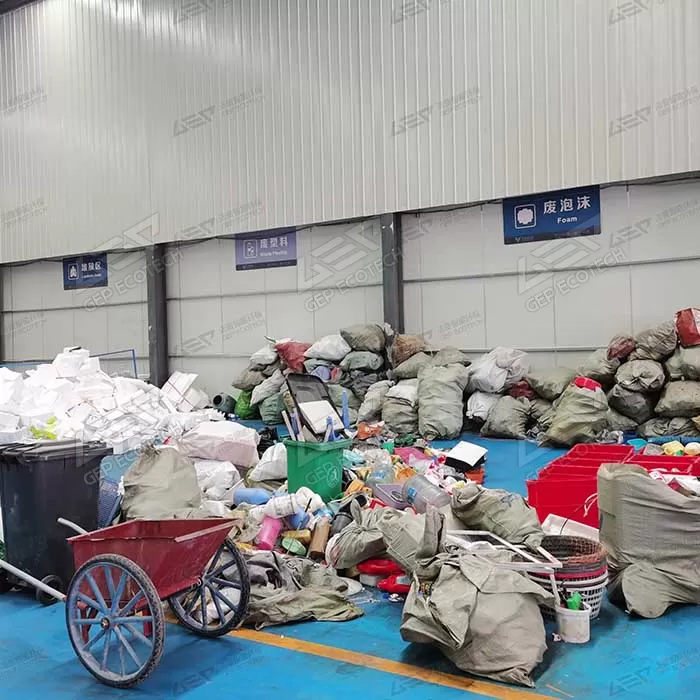 How to choose a suitable plastic bag crushing machine?
The choice of plastic bag crushing equipment mainly depends on the type of plastic bag to be crushed and the degree of crushing required. You should choose according to your own situation. Listed below are the differences between several commonly used plastic bag shredder equipment, you can have a general understanding.
Single-shaft shredder: high-speed crushing of plastic garbage, with finer discharge; careful selection of easily entangled materials.
Double single-shaft shredder: high-speed crushing of various mixed plastic garbage, uniform discharge, controllable size; the price is generally higher.
Double-shaft shear shredder: low-speed crushing of various mixed plastic wastes, with low risk, large output, and strong material adaptability; the output is relatively coarse.
Why choose GEP ECOTECH for plastic bag crushing machine?
The manufacturer has rich project experience:
GEP ECOTECH has been deeply involved in the field of plastic crushing for many years, and has high-performance plastic crushing technology and equipment to meet the challenges of the actual industry. Projects are spread all over the world.
Reliable equipment
GEP plastic bag crushing equipment has been continuously optimized and designed to introduce many shredder functions to improve plastic crushing performance, including multi-functional cutting configurations suitable for various applications, and low wear that can greatly reduce the entire life cycle cost. Simple maintenance system to extend the uptime of parts and components.
Perfect after-sales service
GEP cloud services, rapid emergency services, regular return visit services and other special services make you worry-free after-sales!
When you are worried about what shredder to use for plastic bag crushing, GEP ECOTECH is a choice that can't go wrong. Fighting for your profit margin is our priority. Therefore, our plastic shredder is durable and cost-effective. You are welcome to make an appointment to visit our project sites at home and abroad. You can also send your own materials to test our plastic bag shredder. The GEP shredder will not disappoint you!