At the beginning of 2022, our customized 35 kw single-shaft shredder for industrial waste recycling in Shandong, China will be shipped on time, this equipment will be combined with double-shaft shredder, chain conveyor, belt conveyor, self-unloading iron remover, pulse dust collectors and other equipment together form a production line to provide assistance for the treatment of industrial waste such as glass fiber reinforced plastics. Our 35 kw single-shaft shredder is used for secondary shredding in the production line. It can process waste to a smaller particle size at one time, providing great convenience for subsequent processing.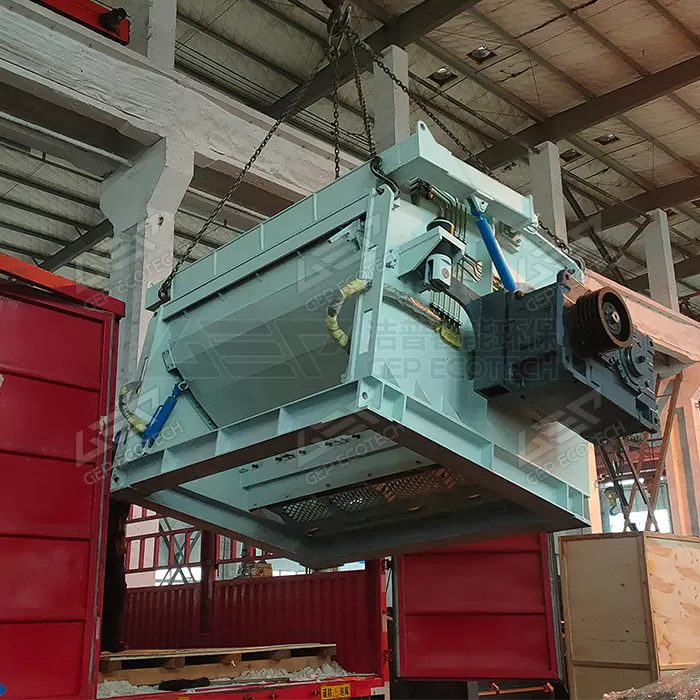 35kw single shaft shredder sent to Shandong, China
Our 35kw single-shaft shredder was selected by Shandong customers after multiple inspections and comparisons. Let us see its characteristics:
The high degree of automation of the whole machine ensures stable work.
The knives are arranged in a "V" shape, which reduces the feeding resistance when crushing materials.
The overall circular motion, unlimited feeding, high shredding efficiency, no jamming.
The inclined push type arc pusher is adopted, which is driven by hydraulic pressure, and the pushing frequency is fast, which reduces the no-load loss.
When replacing the moving knife assembly or the screen, the hydraulic device can be used to open the inspection door, and the inspection can be carried out from the opening side of the inspection door, which is fast and convenient, saving manpower and time.
When the access door is closed, the falling material can directly fall on the arc surface of the access door, which is convenient for the free fall of the material and the push of the pusher, and improves the crushing efficiency.
The movable knife holder and the knife particles are fixed by bolts, which is convenient and quick to disassemble and assemble, and improves the maintenance efficiency.
In addition to this Shandong FRP treatment project, our 35kw single-shaft shredder is also widely used in plastic, tire, paper mill waste treatment and other projects, providing a strong boost for industrial waste treatment! If you also want to know about single shaft shredder, then come to consult us!