There are many types of industrial solid wastes and their components are complex. If they are stacked randomly, they will pollute the environment and endanger human health. It can become industrial raw material or energy source if it is processed by proper process. So how should we deal with these industrial wastes? Industrial waste shredders can help you solve this problem. This article will introduce a shredder for industrial waste in Asia. Come and take a look!
Overview of shredder for industrial waste project in Asia
This industrial waste shredder production line was ordered by a customer in Jiangsu, China after a field visit to GEP ECOTECH, and it is used in the standardized, harmless, and resource-based disposal of industrial waste.
The customer of this cooperation is a steel joint enterprise integrating coking, sintering, ironmaking, steelmaking and steel rolling. The operation of the factory produces a large amount of industrial waste, and there are many hidden dangers of environmental pollution. Therefore, customers urgently need a complete industrial solid waste disposal production line to gradually return the land occupied by industrial solid waste stacking to solve the problem of industrial waste pollution.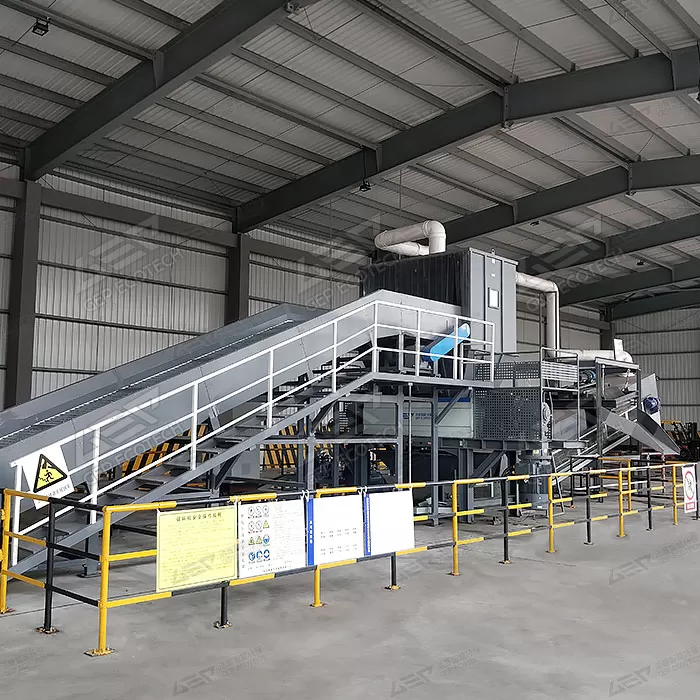 Composition of industrial waste shredder disposal line
The custom-designed industrial waste shredder disposal line for customers in Jiangsu, China, is mainly composed of chain conveyors, double-shaft shearing industrial waste shredders, magnetic separators, GI intelligent monitoring systems, pulse dust reduction devices, and wet spray device, to solve the pretreatment problem before incineration, realize the uniformization of the particle size of the material, and facilitate the subsequent transportation and incineration of the material. After the industrial waste is crushed and processed, the storage space can be reduced, the loading capacity during transportation can be increased, and capital costs can be saved. In addition, the density of crushed industrial waste is uniform, and the combustibility can be greatly improved.
How does the industrial waste shredder disposal line work?
The heavy-duty chain conveyor or loader transports the industrial solid waste to the crushing bin of the industrial waste shredder. The shredder breaks the industrial solid waste into smaller particle sizes. The crushed material passes through a magnetic separator, the metal material separation of other materials. The production line is equipped with a pulse dust suppression system, and the end of the production line is equipped with a wet spray system to reduce dust and improve the industrial solid waste disposal environment. After disposal, the truck is transported to the waste incineration power plant, which realizes the rapid transfer of waste, effective volume reduction, and reasonable classification and treatment.
This shredder for industrial waste in Asia is mainly characterized by intelligent control. Functional equipment such as industrial waste shredder can not only ensure the full crushing of materials, but also have an intelligent dust reduction system to greatly reduce dust in the process of waste recycling. Pollution and other hidden dangers provide a reliable guarantee for the standardized, harmless, and resource-based disposal of industrial waste!