Discarded washing machines, refrigerators, computer mainframes, small household appliances, lithium batteries, and other electronic wastes, because they contain a large amount of recyclable metals, plastics and other materials, have always been the sweet pastry in the renewable resources market. However, in order to efficiently process these materials, special electronic waste shredding equipment is required. The following GEP ECOTECH shredder manufacturer will introduce you the application of the four-axis shredder in electronic waste shredding.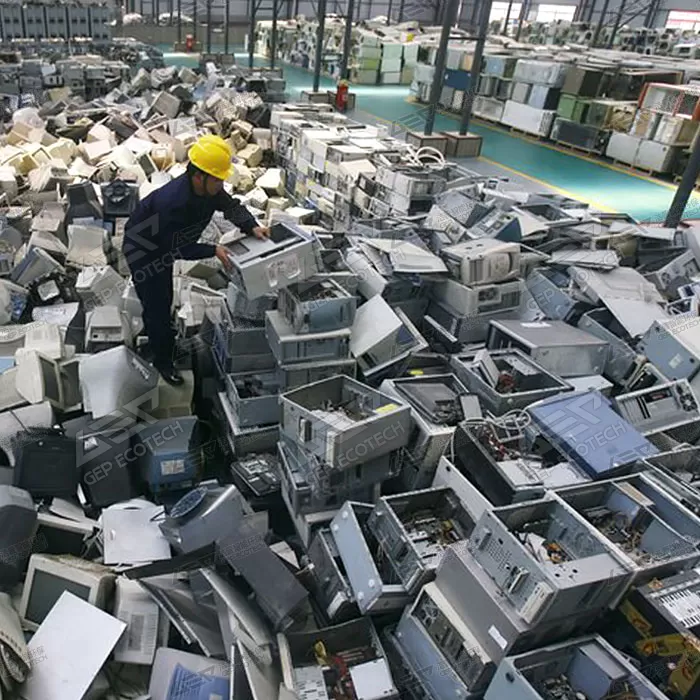 Electronic waste shredding and processing weapon—GF series four-shaft shredder
The GF series four-axis shredder has four sets of shearing knife rollers. The four sets of shearing knife rollers use different knife structures to cooperate with each other. After the material enters the shredding box, it is torn and cut by the blades on the four sets of knife rollers. The function is shredded into small pieces of material. The output size of the four-shaft shredder is controlled by a screen. The large-scale GF series four-shaft shredder launched by GEP ECOTECH is especially suitable for processing electronic waste mixed solid waste that needs to be uniformly discharged and may contain large metal or difficult-to-break materials.
Performance characteristics of GF series four-shaft shredder
Flexible coordination of four cutter shafts, strong crushing ability
The equipment adopts an effective four-knife shaft structure and tooth shape. The lower two rotors are the main crusher, and the upper two rotors are auxiliary crushing and grabbing, which reduces the power consumption of the whole machine and reduces the time of ineffective grabbing, reverse rotation and idling. .
Standardized modular design, good parts interchangeability
The frame of the whole machine has thick plates, high torque, strong and wear-resistant; compact structure, easy to adjust and maintain, easy to disassemble and replace the knife, suitable for shredding of extra-large, extra-thick and difficult-to-break materials.
Design damping device to reduce noise and save energy
Imported reducer is adopted, which has high transmission efficiency and large output torque, which can slow down the vibration generated in the crushing process, make the shredder run smoothly and reduce noise.
GI intelligent electrical control
GI intelligent patented technology realizes automatic lubrication, intelligent monitoring, abnormal early warning, and has functions such as automatic reversal when encountering unbreakable objects; it is equipped with well-known electrical components, which is stable and easy to operate.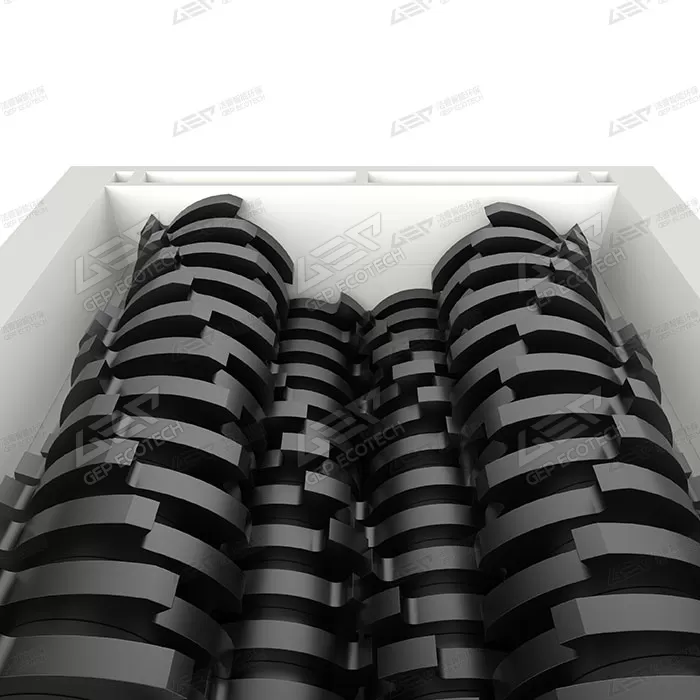 GEP ECOTECH is a well-known brand equipment manufacturer in the field of solid waste shredding. It not only has strong research and development strength, but also has its processing strength second to none. If you have a series of questions about e-waste shredding, please feel free to contact us!