Hazardous waste is corrosive, toxic, flammable, reactive, infectious, dangerous. So it is very harmful to our environment. Based on this background, GEP Ecotech designed hazardous waste shredding system based on hazardous waste features. It is widely used in many industries, but why Gep hazardous enjoy good comment among customers, let me introduce the features of Gep hazardous waste shredding system.
First the system is in Integrated process, is safety and environmental protection.Intelligent tower type hazardous waste shredding system adopts fully enclosed conveying, production and fire protection design, which has strong overall sealing. All these things ensure no pollution spillover, good sealing and corrosion resistance, and meet the national environmental protection requirements. Equipped with hydraulic pressure device and humanized maintenance device, the production is efficient and convenient.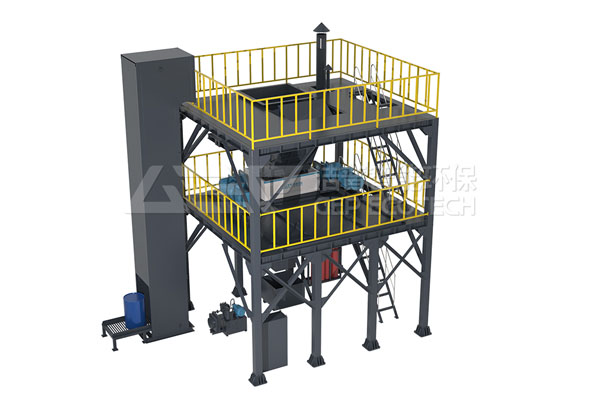 The system is in flexible configuration, better discharge. Intelligent tower type hazardous waste shredding system can be flexibly matched with different models and different cutter designs to meet the requirements of rough, medium and fine crushing and discharging. In addition, the system can design two-stage shredding according to the needs of customers, speed up material shredding, improve crushing efficiency and better discharge.
The system is in exquisite structure, easy maintenance. The shredder chamber is designed by telescopic push and pull, which is convenient for maintenance, uniform size of discharged material and controllable size. It can meet the requirements of different hazardous waste tearing. Tower design facilitates the overall installation and periodic inspection of equipment greatly, and saves the time and cost of later maintenance greatly.
The system us in intelligent terminal control, high degree of automation.Intelligent tower type hazardous waste shredding system involves professional mechanical, electrical and hydraulic station technology and requires high control requirements. GEP integrates high-end intelligent patented technology into the whole production system, real-time online monitoring and control and the number of operations.
Because if these advantages, GEP hazardous waste system is with good performance, welcome to call us to get your hazardous waste shredding solution.