For many waste management/recycling companies, or small waste disposal contractors, the waste to be processed is always changing. A more complex production line can certainly solve most problems, but it will also increase the overall investment cost. For small projects (less than 10 tons per hour), we recommend the use of all-purpose industrial shredders, which can significantly help small and medium-sized enterprises and private investors reduce risks.
What is All-Purpose Shredder?
It is a dual-shaft industrial-grade shredder with powerful redundancy capabilities, which is born to meet complex and severe production tasks for a long time. Its top-level configuration (can be customized) can ensure its long-term service life and be competent for all kinds of difficult material disposal tasks.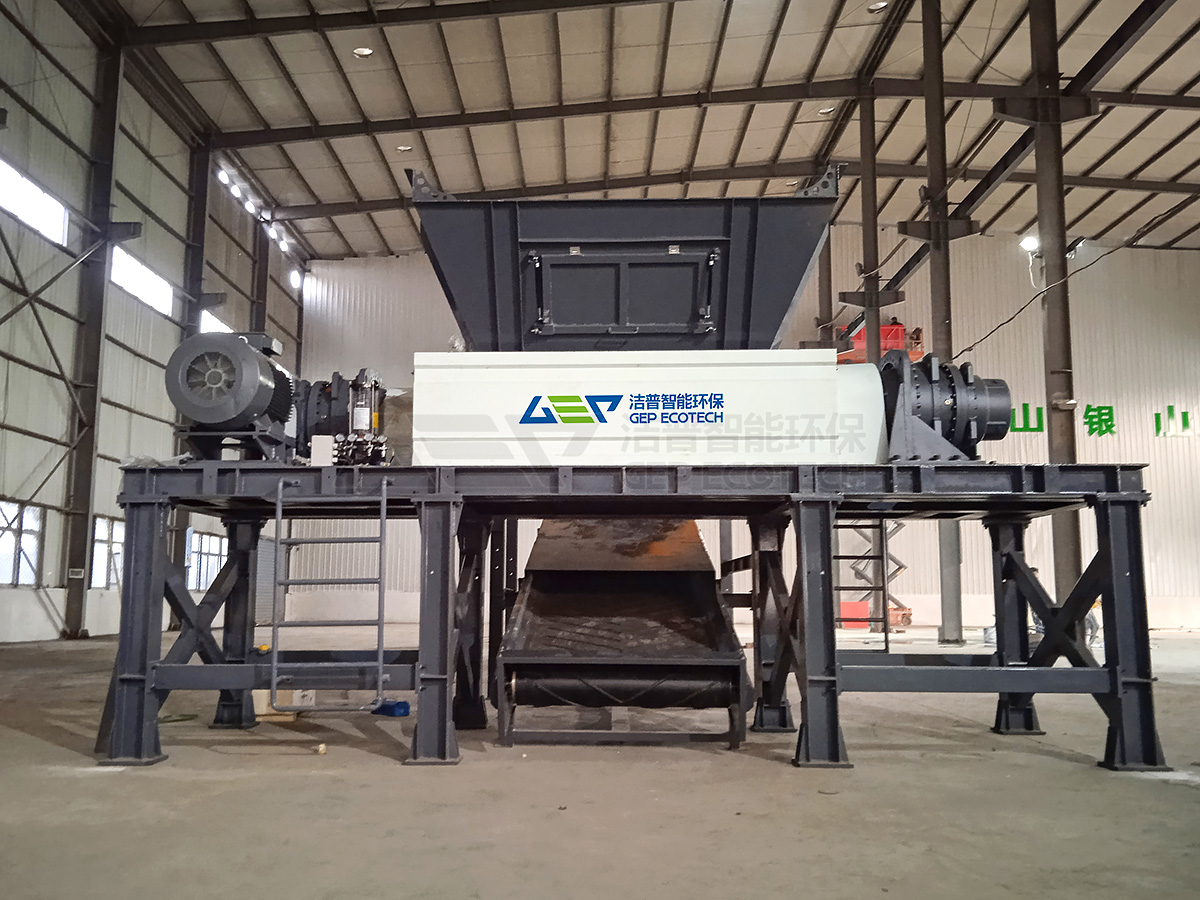 Advantages of All-Purpose Shredder
With a wide range of material adaptability, it can easily cope with almost all common solid waste disposal tasks.
It has extraordinary potential and can do better in areas where competitors cannot. Find Our Projects
Good expansion performance, accessories can be added as needed.

All-Purpose Shredder Applications
The double shaft all-purpose shredder meets the shredding needs of all solid materials, including plastic, fabric, cardboard, wood, organic waste, electronic waste, tires, metal, etc. It is applied in waste volume reduction, recycling, destruction and so on. GEP Ecotech's twin-shaft shredder has been used by waste management companies, biomass power plants, paper mills, tire recycling companies, plastic recycling companies, biogas companies, municipal companies, waste power plants, landfills, etc.
All-Purpose Shredder Price?

The all-purpose shredder is a generic name for a type of products, and customers usually don't ask for its price directly. Of course, we are happy to provide you with a reference quotation. Just tell us your basic needs, you will get a approximate price very soon.
About GEP Ecotech - Shredder & Crusher Manufacturer

GEP Ecotech., CO. LTD is a solid waste disposal equipment provider. It designs, develops and manufactures industrial shredders, crushers, screening and other equipment, and is committed to helping waste management companies and contractors improve the efficiency of waste treatment and recycling, reduces risks, guarantees the long-term operation capability, and increases sustainability. The shredder and crusher produced by GEP Ecotech provide the best size reduction effect to ensure production capacity and safety; GEP Ecotech looks forward to working with you to provide more possibilities for your next project.
How to Contact Us
Leave your request on this page and our representative will contact you and answer any questions you have. See also Small Industrial Shredder for Sale