GD series shearing type shredder is an an ideal 1 ton twin shaft plastic shredder new type because of its advantages of large torque, large shearing force, good tearing effect, low noise, etc. The GD series twin shaft shredders are used in many waste plastic recycling and disposal production line projects around the world, let's take a look at this 1 ton twin shaft plastic shredder new type through a European plastic crushing project.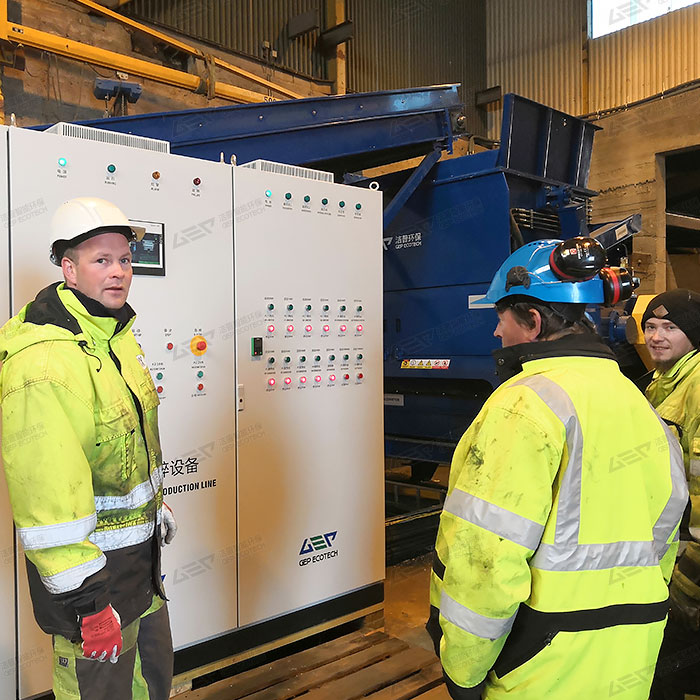 Entering the European Plastic Waste Disposal Center: The forklift delivers the piles of plastic waste to the feed inlet of the production line, passes through the feeding conveyor, enters the primary crushing, magnetic separation, and then enters the secondary crushing, and then passes through the final separation to get different kinds of products.
The GEP plastic waste crushing and disposal production line is composed of conveyor, GD series twin shaft plastic shredder, magnetic separator, single shaft plastic shredder and GI intelligent control system. The whole line adopts modular design, which can be freely combined and adjusted according to the different requirements of users, and realizes the automation of production and the convenience of maintenance through the GI intelligent control system.
This GD series shearing type plastic shredder is the first choice for plastic recycling and utilization, and let us see what are the advantages of the GD series shearing type 1 ton twin shaft plastic shredder new type.
(1) Optimize the structure of the whole machine, and the overall tool box design
(2) High-speed imported bearings, multiple seal structure
(3) Intelligent monitoring technology, visual data monitoring
(4)Independent and removable fixed knife, flexible and convenient maintenance
I hope that more and more people will consciously reduce the environmental pollution caused by plastics, and GEP ECOTECH will continue to study in depth the use of shredders in plastic recycling. If you have more questions about 1 ton twin shaft plastic shredder new type, call us on+86-15838176062 (Whatsapp) or send an e-mail tosales@gepecotech.com.