Introduce
The GC series pre-shredder is often used in the first shredding process of solid waste treatment production lines. Its main function is to reduce the size of large or ultra large solid waste, and can still stably output a relatively uniform particle size material flow even in large feed volumes. The pre-shredder is driven by dual hydraulic pumps and dual hydraulic motors, with strong power output, infinitely variable speed, and strong material adaptability; Special blade design, imported alloy steel material and surface hardening treatment, sturdy and durable; Controlled by an intelligent system, it achieves online monitoring and real-time protection, and production management personnel can keep track of equipment operation and various output data at any time.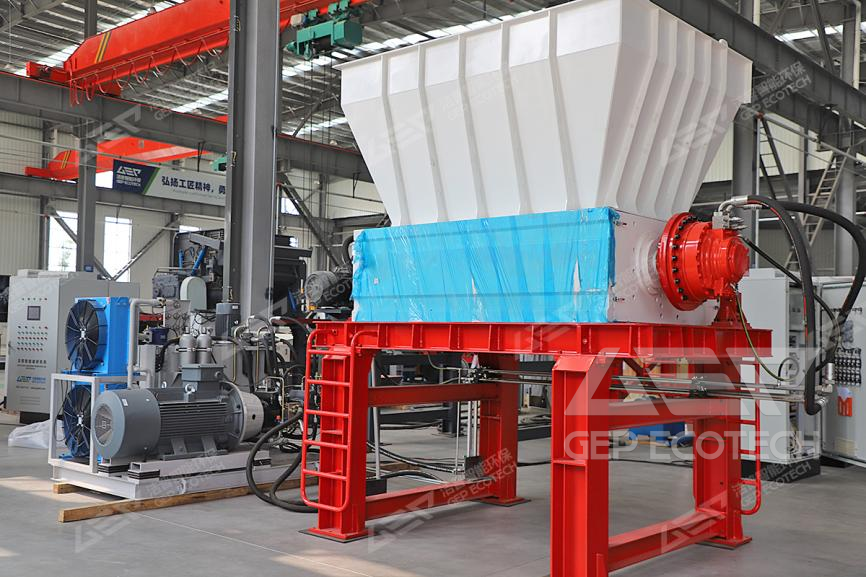 Form
The pre-shredder mainly consists of a frame, a knife box, a motor, a hydraulic motor, a hopper, etc. As the core component of the pre-shredder, the knife box is composed of an upper box, a lower box, an isolation plate, a knife roller, a middle comb plate, a fixed knife group, and corresponding sealing structures.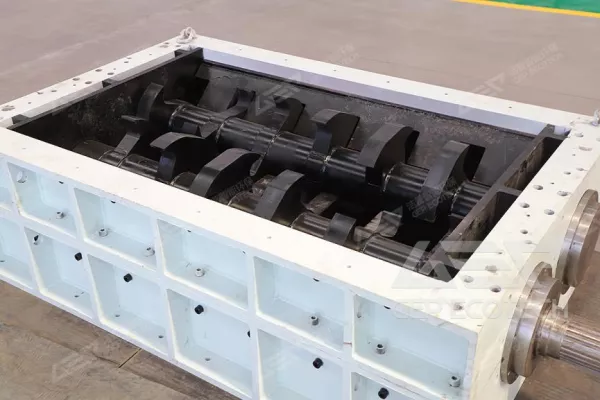 Operational Principle
The pre-shredder adopts a low speed, high torque dual hydraulic motor to directly drive the knife roller. The shredding of materials is achieved through a comprehensive effect of tearing (tearing between the knife heads), shearing (shearing between the knife head and the middle comb plate), and squeezing (squeezing at the edge of the knife head).
Key Indicators
The size of the
shredded material is determined by the following parameters:
Number of cutting heads.
The distance between the blade and the middle comb plate.
The position of the middle comb plate.
The shredding capacity is determined by the following parameters:
Structural parameters: number of tool axes, number of tool heads, length and diameter of tool heads, etc.
Power characteristics: installed power, maximum effective torque, maximum speed, etc.
Pre Operation Inspection
Check if all connecting parts are securely connected.
Check that the oil level of the hydraulic system should not be lower than the centerline position of the oil mark, and there should be no oil leakage at the joints of each part.
Check if the bearings are well lubricated.
Check if there are any debris inside the knife box.
Check if the power cord is connected to the main power supply.
Check the stop switch to confirm that it can be reset.
Maintenance And Upkeep
The operator checks the emergency stop button every day to see if there are any abnormal sounds.
Weekly inspection of electrical components and safety devices by professional personnel.
Every half month, professional personnel check whether all connecting bolts are tightened.
Every month, professional personnel check the wear of cutting tools, tool clearance, lubrication system, and other usage conditions.
Attention: Any situation that may affect the shredding effect and normal operation must be repaired or replaced in a timely manner.