Mobile jaw crushing plant are designed for primary crushing rocks or C&D wastes of any strength to produce or recycle crushed stone and aggregate. The principle operation of a mobile jaw crusher is based on the compression of the material by the working surfaces (cheeks), which leads to its destruction and crushing. Only the crushing jaws are subject to wear in jaw crushers, the side walls are not involved in the crushing process.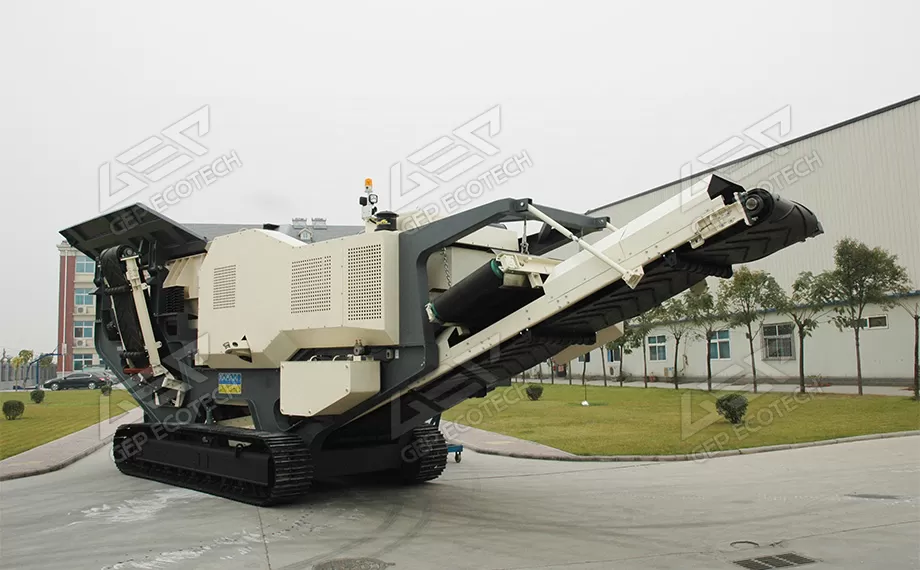 Mobile jaw crushers are rightfully considered one of the most reliable and productive types crushers for primary crushing , they are versatile and capable of crushing any kind of rock (from granite to construction and demolition waste). Depending on the kinds of raw material, the jaws with different strength are installed on the crusher.
Mobile jaw crushers are presented in a self-propelled version that on a tracked chassis and in a semi-mobile version that on a frame with tires . Mobile crushers with a self-propelled tracked chassis are equipped with a control panel installed on the crusher itself, as well as a remote control that allows the operator to control the crusher from a distance.
The fraction of the finished material is regulated by changing the width of the discharge slot in the mobile crusher, all mobile jaw crushers are equipped with a magnet installed above the conveyor belt, when unloading the finished material, the magnet attracts inclusions in the form of metal (pieces of reinforcement, wire) and removes them into a separate hopper, respectively the output is pure crushed material of a given fraction. The use of a magnet is justified when processing construction and demolition waste, for example, broken concrete or bricks. When crushing the material in a mobile crusher, the primary separation of the fine fraction (sand, earth, other rocks of the fine fraction) is carried out. When processing construction waste in combination with a mobile crusher, air separators are used - separating foreign inclusions of light fractions and screening for the most accurate separation of material into fractions.
Mobile jaw crushers are equipped with a diesel engine, or an engine with an electric generator - which allows the crushers to operate on the electrical network. It do not require foundation preparation, electrical power connection, approvals and permits when install the mobile jaw crusher. Mobile jaw crusher with a separator, a screen are a full-fledged mobile crushing and screening complex designed for primary crushing, cleaning and separation into fractions of various materials.