Dealing with waste tires is a strategic industry to solve the black pollution and promote the resources recycling. Along with the national requirements on environmental emissions is becoming more and more strict, the production enterprises to increase investment in environmental protection efforts, take the initiative to upgrade equipment and technology, and consciously implement clean production, the whole industry production has undergone significant improvement. Recently Chairman of China Rubber Industry Association waste rubber comprehensive utilization branch Xuewen Ni made this assessment on development status of comprehensive utilization of waste tires in China.
In recent years, with the increase of car ownership, the waste tires in our country increase rapidly with the annual output of 8%-9%. By 2020, China's waste tires will reach 2,000 tons. Resulting in environmental pollution, waste of resources and security risks and other issues have become increasingly prominent. Especially the secondary pollution caused by processing technology and equipment in the process of comprehensive utilization of waste tires has become the urgent problem of developing circular economy in our country.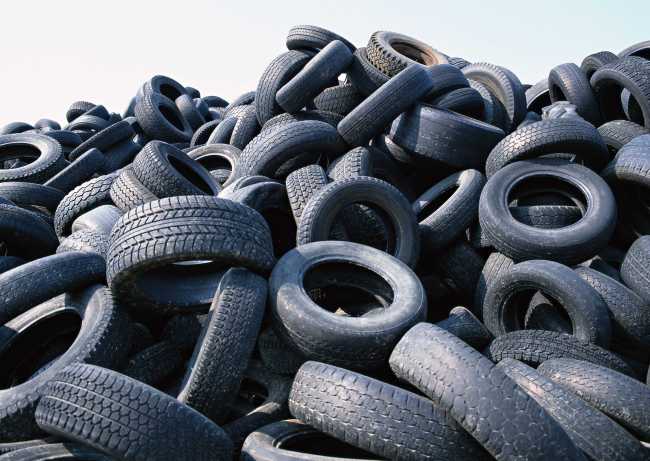 How to change waste into treasure? This article will introduce the latest technology, equipment and application results of waste tire comprehensive processing, environmental protection treatment, clean production, organic waste gas treatment and regeneration products application in China.
Environmental protection equipment has been applied
Currently, in China the comprehensive utilization of waste tire is mainly producing reclaimed rubber, which accounted for more than 70% of the whole world capacity. It is an important raw material to make up for the serious shortage of natural rubber in China. Secondly, the waste tire is used to make rubber powder for new application. Third, it is used to tire renovation. As there is a high request of the tire integrity for tire renovation, coupled with the recycled waste tires are mainly the large tires in our country, the market of renovation tire basically does not exist.
According to the introduction of Qingxin Cao, China Rubber Industry Association waste rubber comprehensive utilization branch consultant, desulfurization is the key process of reclaimed rubber producing. In the past two or three years, with Jiangsu Zhonghong Environmental Protection Technology and Nanjing Green Gold Giant as the representatives of the enterprises, to tackle key problems, have successively launched a atmospheric continuous desulfurization equipment with environmental protection and technical stability; with Dujiangyan New Times Industrial Company, Jiangsu Zhonghong, Anhui Zhonghong and Shandong Dongyue as the representatives of the enterprises, actively upgrade equipment, using atmospheric continuous desulfurization equipment to produce reclaimed rubber and achieved the green and safety production process. Some other enterprises have made a gratifying step in cleaner production, forming a good demonstration effect.
The problem of development should not be neglected
Although some achievements have been made in the comprehensive utilization of waste tires in green manufacturing, but the existing problems in the process of development cannot be ignored. Xuewen Ni believes that because of the low starting point, uneven development, coupled with less state investment, China's waste tire comprehensive utilization industry is facing the pressure of transformation.
In addition, the utilization of waste tires in our country is far from enough; especially the comprehensive utilization of the used car tires is in a blank state. In 2016, the recycling and utilization of waste tires is only 6,400,000 tons, which means that there are hundreds of millions of waste tires haven't been used as recycling. Because the rubber content is not high, coupled the steel wire and fiber containing a certain proportion, resulting in the used car tires recycling cost is high. And nearly all the used car tires are currently standing idle said by Xuezhi Qi. How to revitalize the recycling of used car tires, we need the urgent breakthroughs from technology, processing, equipment, applications and other aspects. At the same time, in the recycling of waste tires, China has an obvious disparity between European and United States and other developed countries. It is urgent to develop new application fields through continuous innovation.
Government and associations have many efforts
At present, the comprehensive utilization of waste tires accounted for as much as 70% in the comprehensive utilization of waste rubber industry. Therefore, to solve the soaring problem of black pollution of waste tires, it is of great significance to promote environmental protection and the healthy development of comprehensive utilization of waste rubber.
In the end of last year, MIIT and other two ministries put the waste tires recycling as one of the key points in Guiding Opinions on Speeding up the Development of Renewable Resources Industry, which proposed to develop green, intelligent and continuous complete equipments for recycling rubber and foster around 10 demonstration enterprises on waste rubber cleaner and high-value production.
On this April 21st, NDRC and other 13 ministries clearly pointed out in Circular Development Leading Action, we should strengthen the circular economy standards and authentication system, and implement the producer responsibility extended system. At the same time, in view of continuously increased environmental indicators, this association initiated the standard revision of the regenerated rubber group, which will limit the content of polycyclic aromatic hydrogen and the important indexes affected the quality of reclaimed rubber to enhance the environmental protection in the production process. This standard is expected to be enacted in next year.