Hazardous wastes are corrosive, toxic, flammable, reactive and infectious. Hazardous wastes are not excluded, which may have harmful effects on the environment or human health. Hazardous wastes need to be managed and disposed of in accordance with the requirements of hazardous wastes.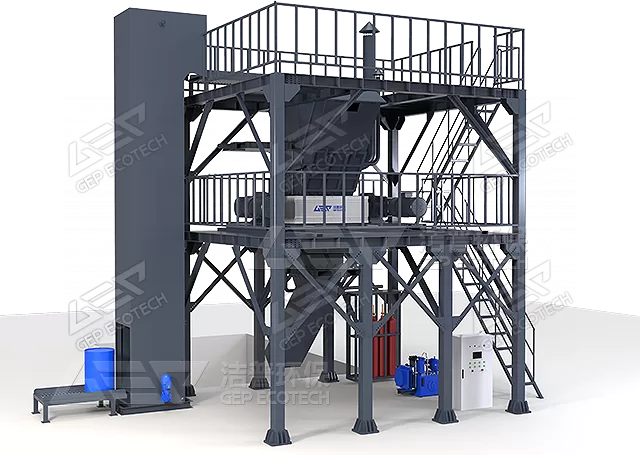 System composition
Hazardous Waste Shredding Unit is a set of intellectualized, modular and one-stop hazardous waste pre-treatment plan independently developed by GEP according to the characteristics of hazardous waste disposal, which integrates lifting system, storage bin, safety protection system, crushing system, fire fighting system, intelligent control system and maintenance system. The system can not only provide professional intelligence for customer, but also combine with professional fire company to design a high-quality fire control system , at the same time professional design and treatment have been done in the aspects of anti-corrosion, anti-leakage and explosion protection of equipment, so as to realize the safety control in the whole process from feeding to tearing and ensure the efficient and stable operation of the broken line.
Hazardous Waste Shredding Unit Application
Cement Kiln Collaborative Disposal
Cement Kiln Collaborative Disposal is a new waste disposal method proposed by cement industry. It refers to the process of putting solid waste which meets the requirements of kiln entry after pre-treatment into cement kiln, and realizing harmless disposal of solid waste while producing cement clinker.
Hazardous Waste Rotary Kiln-exhaust-heat Boiler Disposal System
Rotary kiln incinerator can agitate waste efficiently under the influence of rotary action. It can provide corresponding combustion operation according to the change of hazardous waste. At the same time, it can play a good thermal insulation effect, support long stay and finally achieve the ideal incineration goal.
Battery Shredding Recovery System
On the one hand, Battery shredding recycles heavy metal elements in batteries, which is a kind of reuse of resources; on the other hand, recycling old batteries also prevents its damage to the environment.
Industry Oil Drum and Paint Drum Shredding Recovery
All kinds of light industrial paint drums are shredded into strips for centralized collection and transportation, which reduces transportation costs. The crushed materials are used as scrap iron casting speed and steel-making raw materials.
Features and Advantages
Integrated process, safety and environmental protection: Intelligent tower type hazardous waste shredding system adopts fully enclosed conveying, production and fire protection design, which has strong overall sealing. All these things ensure no pollution spillover, good sealing and corrosion resistance, and meet the national environmental protection requirements. Equipped with hydraulic pressure device and humanized maintenance device, the production is efficient and convenient.
Flexible configuration, better discharge: Intelligent tower type hazardous waste shredding system can be flexibly matched with different models and different cutter designs to meet the requirements of rough, medium and fine crushing and discharging. In addition, the system can design two-stage shredding according to the needs of customers, speed up material shredding, improve crushing efficiency and better discharge.
Exquisite structure, easy maintenance: The shredder chamber is designed by telescopic push and pull, which is convenient for maintenance, uniform size of discharged material and controllable size. It can meet the requirements of different hazardous waste tearing. Tower design facilitates the overall installation and periodic inspection of equipment greatly, and saves the time and cost of later maintenance greatly.
Intelligent terminal control, high degree of automation: Intelligent tower type hazardous waste shredding system involves professional mechanical, electrical and hydraulic station technology and requires high control requirements. GEP integrates high-end intelligent patented technology into the whole production system, real-time online monitoring and control and the number of operations.