Recently, the Department of Ecology and Environment of Zhejiang Province led the drafting of "Zhejiang Province to strengthen the supervision and use of hazardous waste disposal capacity reform implementation plan (draft for comment)" issued, aims to continue to enhance the supervision of hazardous waste capacity, the use of disposal capacity and risk prevention capacity and reduction, resource, harmless level, to ensure ecological and environmental safety and production safety, to create a national hazardous waste pollution prevention first demonstration province.
In terms of hazardous waste utilization and disposal, the programme proposes that by the end of 2022, a hazardous waste utilization and disposal system with abundant capacity, sufficient competition, convenience and efficiency will be basically formed, and the harmless disposal rate of both industrial hazardous waste and medical waste will reach 100%. Focus on research and demonstration to promote the construction of a number of high-temperature molten domestic waste incineration fly ash, coal-fired power plants co-disposal of oil sludge, steel plants co-disposal of heavy metal-containing waste, comprehensive use of industrial waste salt and cement kiln co-disposal of hazardous waste treatment projects.
As a professional developer of solid waste treatment related technology and equipment, GEP's equipment has played an important role in the field of hazardous waste treatment in Zhejiang from an earlier period. In the face of complex hazardous waste (chemical drums, gloves, rags, tonne bales, woven bags, etc.), we have targeted and carefully modified our equipment, designed special shredders for hazardous waste, and added safety guards and intelligent control systems to ensure the smooth operation of the equipment and the personal safety of the operators on site. Not only did we help the enterprise to achieve safe treatment of hazardous waste, but also provided a rich case basis for collecting data and summarizing experience in the local hazardous waste disposal field.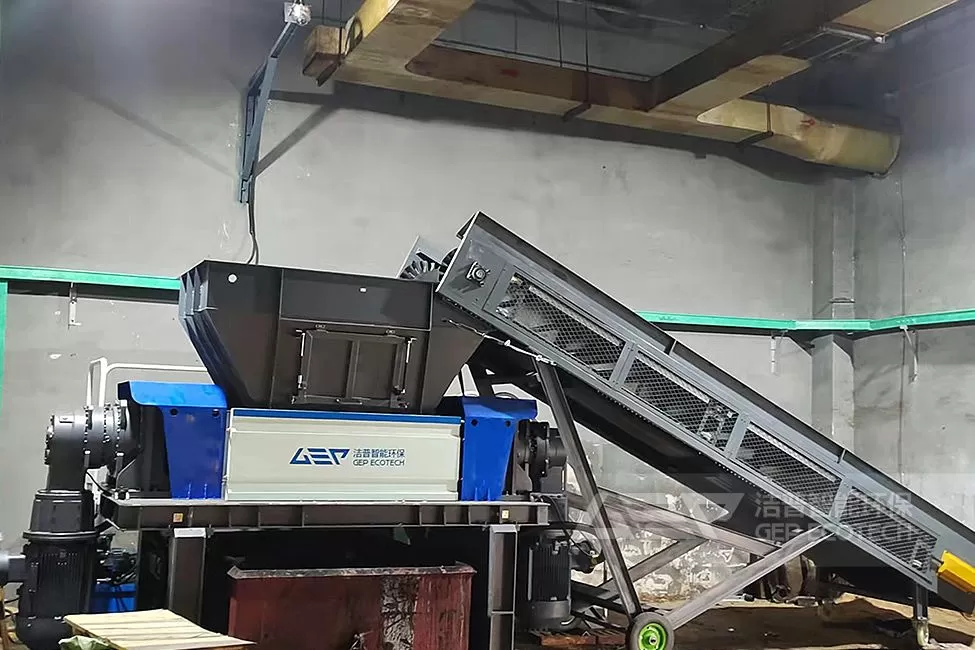 In the much talked about area of medical waste disposal, GEP's technology and equipment are still ahead of the curve. According to the requirements of this programme: promote the application of new technologies and equipment for centralized medical waste disposal, encourage the development of mobile medical waste disposal facilities, and provide local disposal services for remote grassroots.
GEP ECOTECH has successfully launched mobile medical waste disposal equipment many years ago, helping users to solve many problems such as high infrastructure costs, difficulties in supplying electricity in remote areas, and difficulties in balancing multiple scattered waste sites. It is a low investment cost and high asset preservation machine: it comes with a mobile chassis and can be quickly transferred between multiple scattered medical waste collection points; it has a built-in diesel engine and can be put into production immediately without external power supply; the core equipment is stable in quantity and high in quality and efficiency, and can be flexibly equipped with various equipment developed by GEP depending on the output and size of the discharge.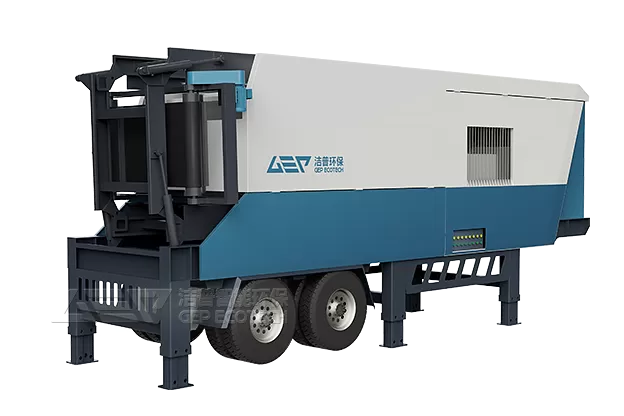 According to incomplete statistics, in July alone, the hazardous waste industry has intensively issued the "Ningxia Hui Autonomous Region to strengthen the supervision of hazardous waste and the use of disposal capacity reform action plan", "Shandong Province on the implementation of hazardous waste classification management notice", "Jiangxi Province, the pilot implementation plan for the collection of hazardous waste for small and micro enterprises", "Yichun City to strengthen the supervision of hazardous waste and the use of disposal capacity reform implementation plan", "Jilin Province Pilot Program for the Exemption Management of Hazardous Waste "Point-to-Point" Targeted Utilization (Draft for Comments)", "Guizhou Province's "14th Five-Year Plan" for the Construction of Centralized Hazardous Waste Disposal Facilities", "Anhui Province's "Point-to-Point" Hazardous Waste The implementation plan for the exemption management of "targeted utilization license (for trial implementation)", "Standardized Code for Safe Production of Cement Kiln Co-disposal of Hazardous Waste Enterprises" and other local regulations and group standards. With the support of favorable policies in the industry, GEP ECOTECH will surely move forward at full speed!