Both domestic waste and industrial waste can be divided into material above screen and material after screen.The material after screen is mainly stone, soil and other heavy material, while the light material above the screenis waste textile, plastic, paper, etc. most of the heavy materials will be backfilled , the light material can be further process, so let me introduce the GSD double shaft fine shredder which is widely used in light material further process.
GSD seriesdouble shaft fine crusher is a new generation of products introduced by our company. It is optimized on the basis of single axis fine crusher, which not only improves the appearance, but also improves the intelligence, reliability, maneuverability and maintenancewhich make the product more competitive! Double shaftfine shredderhas stronger applicability, can meet different material process requirements, and well received by customers.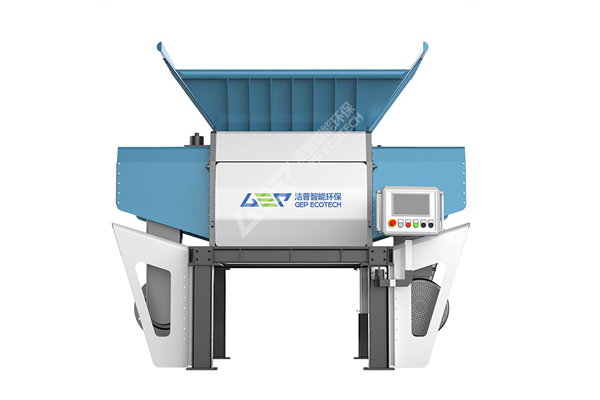 The features of double shaft fine shredder:
1.GI patented intelligent technology, remote monitoring and diagnosis
GI intelligent technology is used to control and monitor the whole production process in real time, real-time on-line running state monitoring and centralized control, and the running data are provided to the central control center in time. The functions of automatic memory, data analysis, fault prediction, alarm shutdown, linkage control and intelligent maintenance are realized by remote diagnosis and control of production line through mobile phone APP or computer terminal, so as to form an effective early warning mechanism which can effectively reduce equipment failure rate and maintenance time, reduce maintenance and operation costs, and greatly improve the operation efficiency of the production line.
2.Large capacity design, high shredding efficiency
The equipment adopts special double-shaft cutter rollers design for soft materials, which has strong material adaptability. Two rotors drive independently, rotate relative to each other, feed each other, multiple crushing, effectively improve the tearing efficiency.
3.Imported bearing, multi-combined seals
Imported bearings and multiple combined seals are adopted, which have high load resistance, long service life, dust-proof, waterproof and pollution-proof, and ensure the continuous and stable operation of the machine.
4.Screen can be replaced independently reduced maintenance costs
The whole set of screen is composed of several separated screens parts, each of which can be replaced independently, thus effectively reducing maintenance costs.
5.Independent removable fixed cutters, strong wear resistance
Each fixed cutter can be disassembled and installed independently, and can be quickly disassembled in a short time, which greatly reduces the workload of workers and improves the continuity of production.
If you want to know more about double shaft fine shredder, please feel free to contact with GEP Ecotech.